Weight:

385 - 405

g

Capacity:

10.0 - 18.0

L
$199.00

-

$239.00
Front Harness + Dry Bag DGS
Harness and seam-sealed dry bag which attaches under your handle bars. The double-ended tube-style dry bag can be attached/removed quickly and easily while leaving the harness in place. This system is great for multi-sporters or adventure racers who need to be able to add/remove bags frequently at transitions.
Easy Loading
The handlebar harness features a 3 strap system to allow easy loading of the dry bag - the centre strap holds the balanced load, while you tension the two outer straps for a secure fit.
Versatile
The handlebar harness has been specifically designed for use with the dry bag, but can also be used for any suitable tube shaped item, such as a tent. It can also easily be paired with the Cafe Bag - the ideal companion for valuables and important items you want to keep close and convenient at stops.
Special Edition Colours
Please see the features section for the current range of colours.
Internal organisation
ROBO-KIWI recommends using Sea to Summit Ultra-Sil dry sacks for additional waterproofing and internal organisation.
Made in New Zealand
All ROBO-KIWI bikepacking bags are proudly designed and made in New Zealand from a range of quality technical fabrics.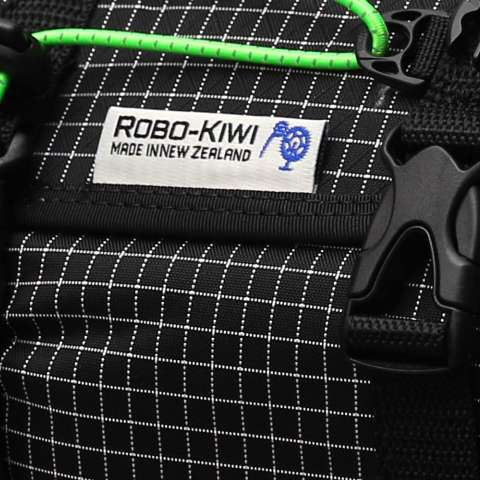 Dyneema GridStop Fabric
This water-proof and highly tear resistant fabric has a grid of white High Density Polyethylene (HDPE) threads for exceptional tear strength, as well as a diagonal woven ripstop. Lightweight, durable and waterproof Dyneema GridStop is a highly technical fabric ideal for bikepacking bags.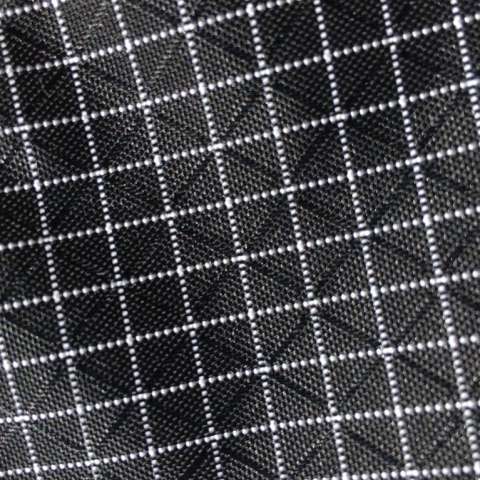 Dyneema GridStop Colours
With a range of external fabric colours to choose from and a large selection of trim colours, you're spoilt for choice! Choose a unique combination that matches your bike or contact us for a completely custom look.

Special edition 2020: steel, moroccan blue, dark olive.
Special edition 2019: slate blue, lichen green, burnt orange (limited supply).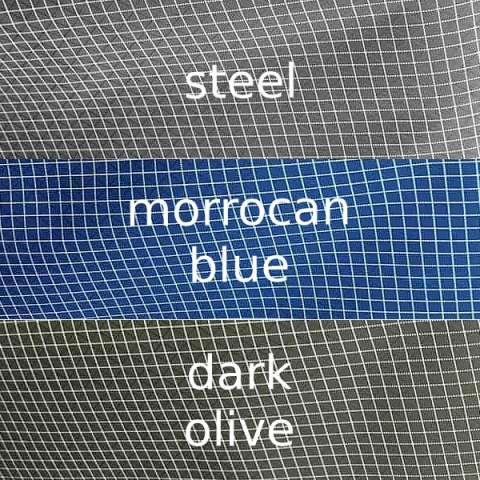 Reflective Bungee Cords
External bungee cord, quick-release hooks and toggles keep your kit convenient, secure and safe. Ideal for stashing and accessing spare gear while riding.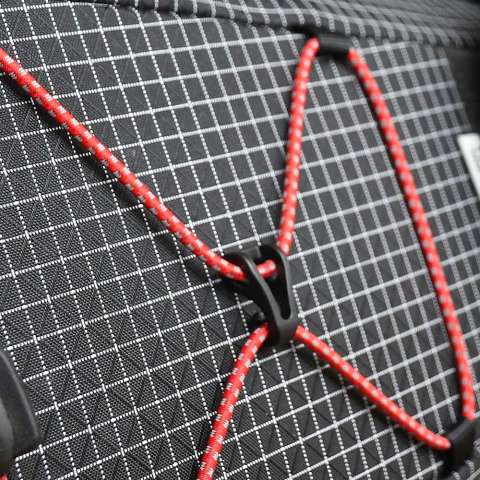 Waterproof Dry Bags
Velcro closures allow for easy removal of excess air to ensure a secure and tight load. While the bags are seam-sealed and waterproof for the purpose of bike packing (brief submersion, eg. river crossings, deep puddles, torrential rain, etc.), prolonged submersion could result in water wicking through the velcro closures. The dry bag is not recommended for kayaking, rafting or water-based sports.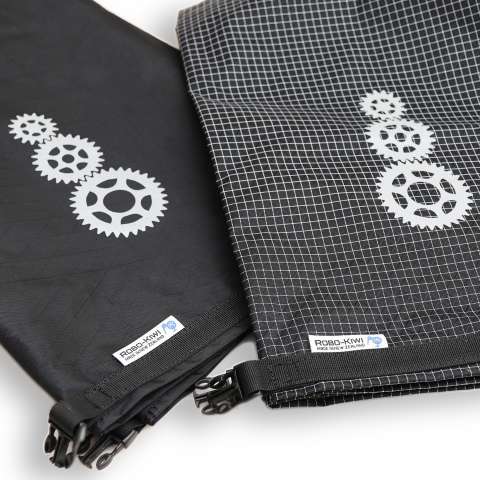 Dual end closures
Easily centre the contents of the bag and access from both ends while it is on the bike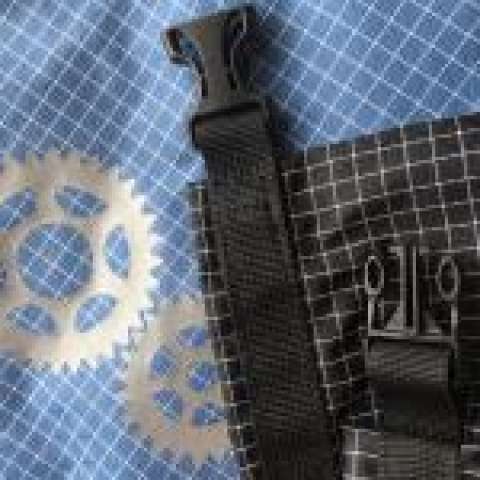 Visibility
Highly reflective logos keep you visible from all directions at night.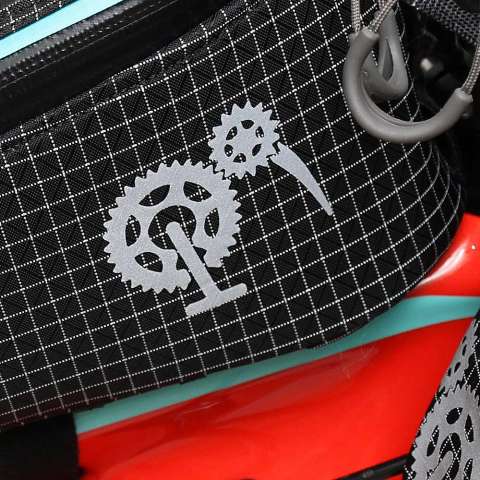 Customisable Fit
0-40mm EVA foam spacers on the harness adjust to fit around gear and brake cables for most handlebar configurations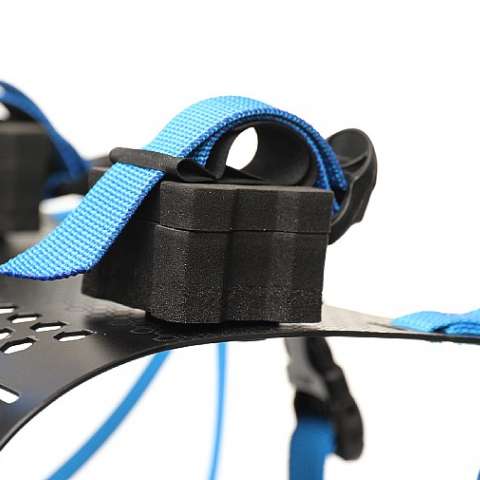 Hypalon® tabs and reinforcement patches
Hypalon® tabs and reinforcement patches provide both a secure anti-slip fit and protection for your bike frame.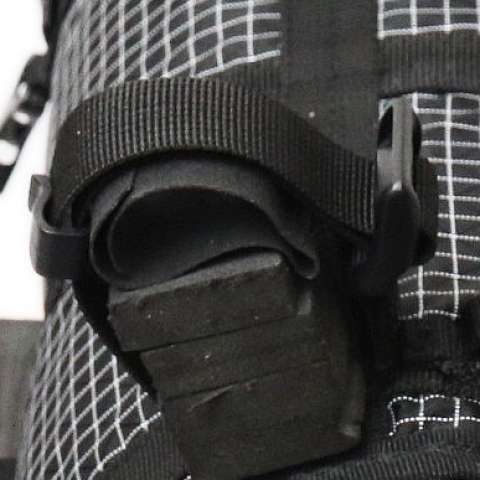 What to put in it
This harness and bag system is ideal for spare clothing and other items which need to be kept dry. It can also be used to carry overnight food, cooker, etc. The centre of the bag is great for things that you don't need to access during the day, while the dual end closures allow quick and easy access to items you'll want during stops.
How to pack it
1. Attach the empty harness to your handle bars, positioning the foam spacers and straps carefully around your gear cables and brake lines (to ensure they're not bent out of shape and function correctly). Clip the lower retainer strap around the bottom of the head tube. Tighten all straps for a secure fit.
2. Pack the tube dry bag tightly, rolling the ends firmly, then insert into the harness and tighten all the straps. The harness remains in place when you remove the dry bag, allowing for quick transitions.
| | |
| --- | --- |
| Model: | standard |
| Product Code: | RK13DGS |
| Weight: | 385 - 405 g |
| Capacity: | 10.0 - 18.0 L |
| Height: | 16 - 20 cm |
| Width: | 60 - 65 cm |
| Depth: | 16 - 20 cm |
Sizing
Minimum handlebar to Front tyre clearance (after any suspension compression)
Size small - 14-16cm
Size medium 17-19cm
Size large 20-22cm
Exact fit depends on bike geometry and how many foam spacers are used, these numbers are a guide only.