Weight:

190

g

Capacity:

8.0

L
$289.00

-

$299.00
Triangulator Bag UL
Custom-sized frame bag filling the triangle between the top tube, seat tube and down tube. The Triangulator UL frame bag is a handy place to store a water bladder and small items such as your first aid kit. Standard designs will seldom fit your frame correctly, especially if you have rear suspension. We'll provide detailed instructions on how to make a stencil from your bike frame. This not only enables us to create the best fit for your bike, but you can also specify exactly which features you want, or even request custom features specific to your setup!
Standard Features
Single compartment (one zip - choose left/right side)
Deluxe Features
Double compartment with horizontal divider (two zips - choose upper left/right, lower left/right)
Map pocket (opposite side to zip(s) - for double compartment, both zips will need to be on the same side)
Hydration tube exit sleeve (opposite to top zip)
Storm flaps over zippers (helps with waterproofing zippers in heavy rain)
Custom Extras
Please specify what you'd like and we will contact you regarding the feasibility and price.
Production Time
All Triangulator UL Bags are custom fitted so take up to 4 weeks from the time we receive your frame stencil (provided we have your requested fabric colours in stock for manufacture). It may be possible to shorten the standard production time, but a surcharge will apply for fast service orders.
Hybrid Dyneema® Composite Fabric
Hybrid Dyneema® Composite Fabric (formerly Cuben Fiber) is a patented, ultra-lightweight fabric made of flexible non-woven composite laminates which are reinforced with Dyneema® fibres.

DCF is costly and for good reason. It's 15x stronger than steel and provides the highest tear and tensile strength of any competing fabric on a weight-by-weight and thickness basis.

The hybrid variant of DCF is a 2-layer laminate material combining a thin DCF layer with a polyester plain-weave face fabric, which adds strength and makes the material look more like a traditional woven fabric.

It is our fabric of choice for products that demand high performance durability and the absolute best in ultra-lightweight, waterproof fabric.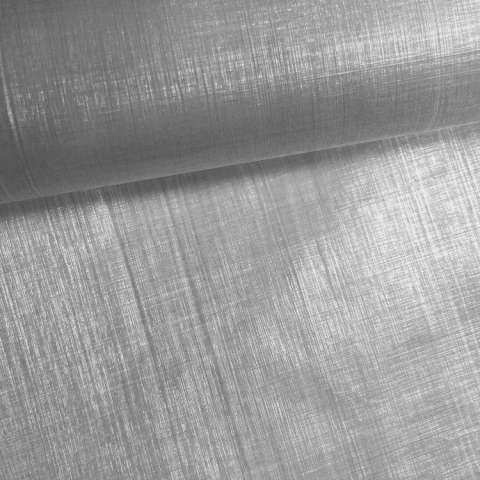 Side Padding & Protection
Closed cell foam laminated to the external fabric protects your bike frame and provides structure.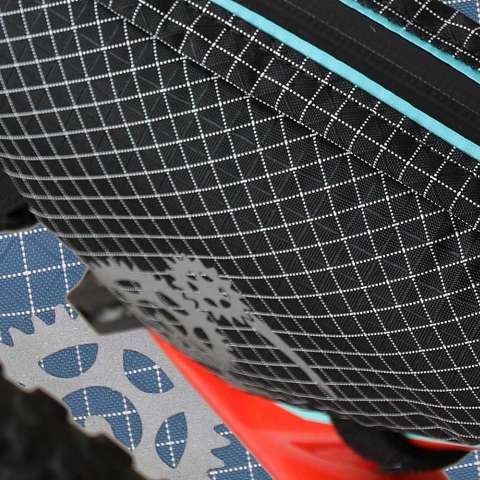 Hypalon® reinforcement patches
Hypalon® reinforcement patches provide strap adjustment options, increased grip and protection for your bike frame.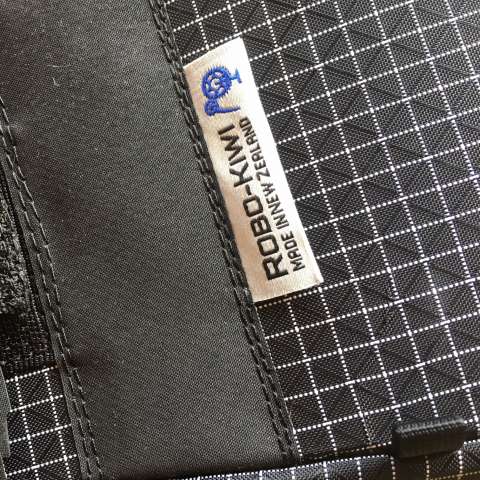 Visibility
Highly reflective logos keep you visible from all directions at night.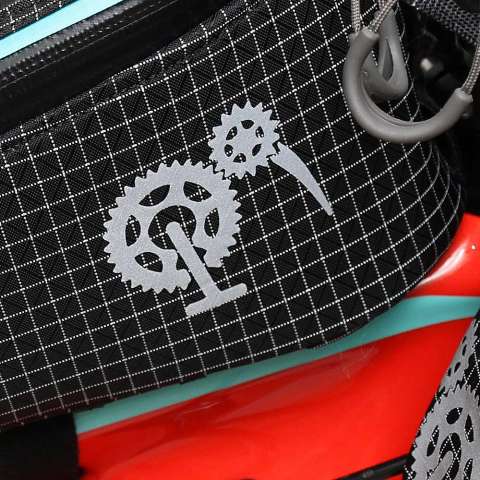 Made in New Zealand
All ROBO-KIWI bikepacking bags are proudly designed and made in New Zealand from a range of quality technical fabrics.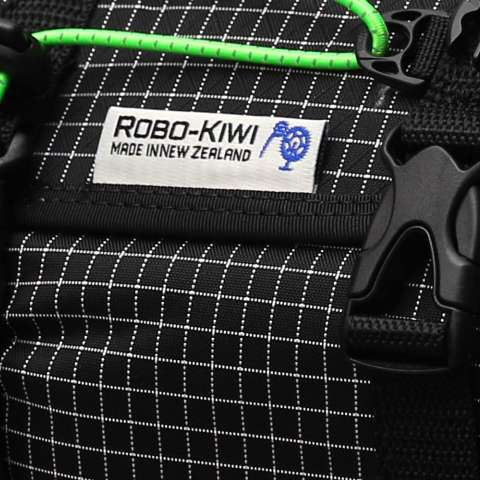 Water resistant zippers
YKK Uretek water resistant zippers are used throughout all ROBO-KIWI bikepacking bags.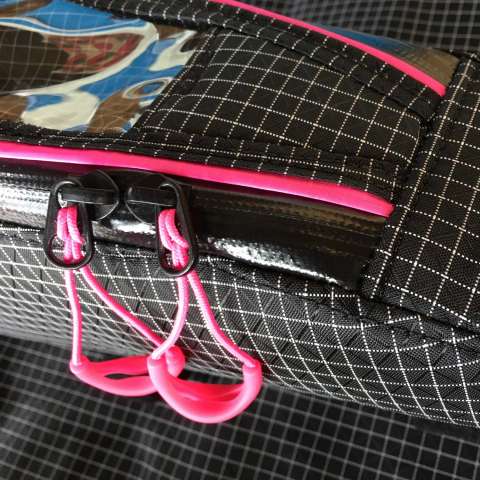 Velcro Attachments
Quality One-wrap Velcro straps provide an adjustable and secure fit to your bike.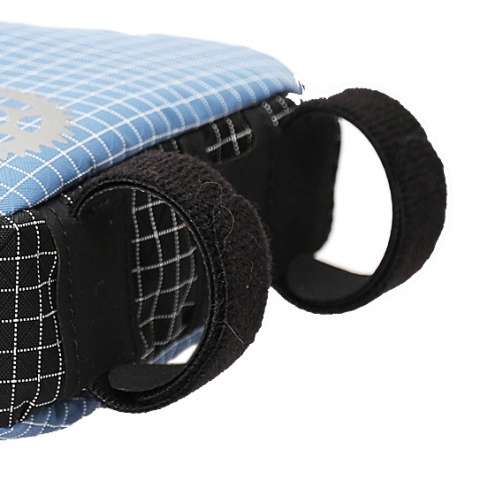 Fabrics & Colours (UL)
Choose from 3 external fabric colours for a unique setup that matches your bike or contact us for a completely custom look.
Bespoke Frame Bag Design
Custom-fitted to your bike frame to make the most of the available space. Choose from single or double compartments and a range of handy features for a frame bag specific to your setup.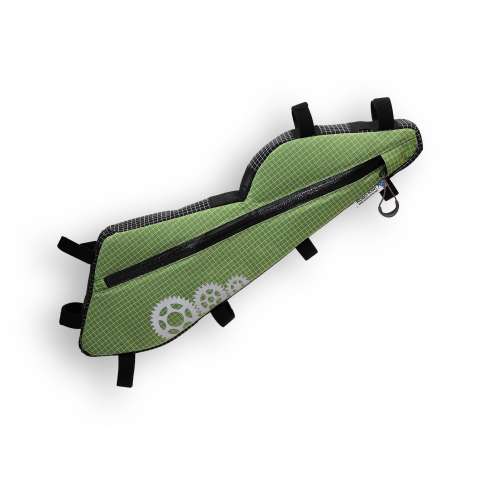 Bike Portage
Hand space under the top tube (directly in front of the seat) allows for an easy bike carry. This is a custom extra which can be added on request.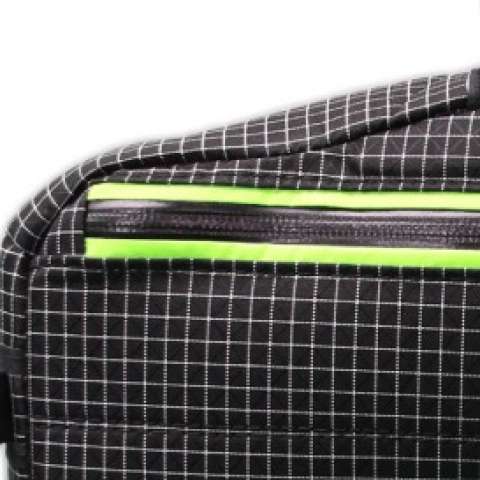 Custom Fit & Sizing
As we can't physically work with your bike frame (unless you leave it with us!), we need you to create a frame stencil for us. You make the stencil, send it to us and we use it to size the bag and place the straps. The more accurate your stencil, the snugger the fit. All custom-fit bags ship with longer straps, so you can trim them to the correct length once on your bike.
What to put in it
This bag is a great location for your drinking bladder as it places a potentially quite heavy item at the centre of the bike. This distributes the load better across the wheels and allows for better riding performance.
How to pack it
Attach the bag to your bike first, then pack it. This makes it less likely that you'll over-fill it and makes it easier to add heavy items. Make sure the velcro strips are nice and tight and overlap well.
| | |
| --- | --- |
| Model: | ultralight |
| Product Code: | RK31UL |
| Weight: | 190 g |
| Capacity: | 8.0 L |
Robo-Kiwi Ultra Light is our bag solution that goes all-out to create the lightest possible version of our products, while still maintaining functionality and durability. Excess weight is cut wherever possible. We use a hybrid Dyneema composite outer fabric, smaller buckles, narrower straps and velcro, lower density foam inserts, etc, etc.
The ultra light solution isn't right for everyone. If you want bike bags so durable that you'll be able to pass them down to your grandchildren, there are plenty of bag manufactures to choose from. If you want bags that have been shown to go the distance while saving significant weight over a standard bike packing setup, Robo-Kiwi Ultra Light is for you!
For the standard model, check out the Triangulator Bag.
If you'd like to go even lighter than our Ultra Light Model, please contact us to discuss your requirements. There are a few extra tricks we can employ on custom setups to save a few grams here and there and if you are willing to make a few key trade-offs we can make significant extra weight savings.